According to the WHO, as of December 8th 2020, Egypt has 119,281 confirmed cases of Covid-19 and 6,813 deaths. The authorities have taken some precautionary measures to improve testing as well as to limit the community spread of the virus, including setting up testing centers, imposing nationwide curfew from March to June, temporarily closing churches and mosques (March to July), temporarily halting all air travel (March-June), and encouraging all sectors to work from home, except crucial sectors, defined by the government. All non-health government services were suspended (March-June). The government reinforced social distancing measures to prevent the spread of the virus.
The Covid-19 pandemic harshly affected global models of growth and trade to public health crises. It illustrated the speed with which such crises can spread and overwhelm all economies of the globe in our era of close connectivity.
MENA countries face a dual shock not only the Covid-19 pandemic but also the oil prices collapse. Today all authorities are focusing first on responding to the health emergency and the associated risk of economic depression and postpone fiscal consolidation linked to the persistent drop in oil prices until recovery from the pandemic is well underway.
Egypt's economy had just started to recover after years of political turmoil and militant attacks when the coronavirus crisis hit. Even though Egypt is a rising star among emerging economies, reforms remain to be completed. The 2016 reform program support by the IMF loan to Egypt has achieved economic growth of 5.2% before the crisis. Despite the fact that, due to the pandemic crisis, the expected growth was of 2% for the current fiscal year, Egypt reached an economic growth of 3.8% in the FY2019-20 (30 June). The country is still targeting budget deficit decrease to reach 7.8% (end 2022) of GDP from 8.2% in FY2018-19. Meanwhile the crisis of the coronavirus and the slowdown of oil activities led short-term impacts, i.e.: a decrease in remittances, tourism and Suez Canal revenue and another long-term impact which is the decline in oil investments.
The Covid-19 epidemic is likely to impact the Egyptian economy primarily due to declining travel and impacting especially its vital tourism sector, reducing worker remittances, capital outflows, and slowdown in domestic activities as people are requested to stay home.
The absence of tourists alone is estimated to cause monthly losses of EGP 26.3 billion, or $1.5 billion. Thus, the loss in tourism revenues accounts for about two thirds of the total estimated impact. The weaker demand in the global market will also reduce Egypt's exports as well as earnings from the Suez Canal. The central bank and the government are actively implementing measures to contain economic implications of the epidemic.
On Trade activities:
Authorities have suspended the export of all types of legumes for a period of 3 months (till June) and plan to start increasing strategic food reserves to meet domestic demand;
The government also banned the export of medical and pharmaceutical products and directed all local production to the local market from march to June;
Minister of Trade and Industry decided to suspend the requirement to stamp/authenticate import documents at chambers and EG embassies till further notice. (Not applicable to new factories registration by GOEIC, decree 43/2016, 44/2019).;
On Trade Trends: An increase in non-tariff barriers (food, machinery, steel, cement).​
On the fiscal and monetary policies & macroeconomic status:
The government has announced incentive policies in the USD 6.13billion package (EGP 100 billion, 1.8% of GDP) to mitigate the economic impact of COVID-19;
In May, Egypt received an IMF $2.8bn emergency loan and another $5.2bn Stand-by Arrangement in June 2020.
Socially:
Pensions have been increased by 14%.
Expansion of the targeted cash transfer social programs extended to reach more families.
A targeted support initiative for irregular workers in most severely hit sectors has been announced, entailing EGP 500 in monthly grants for 3 months.
To support the healthcare sector, EGP 3.8 billion has been allocated, targeted at providing urgent and necessary medical supplies, and disbursing bonuses for medical staff working in quarantine hospitals and labs.
To support medical professionals, including doctors working in university hospitals, a 75% allowance over the wages has been announced.
To support the industrial sector:
Energy costs have been lowered;
Real estate tax relief has been provided;
Subsidy pay-out for exporters has been stepped up.
To support Tourism sector (In 2019: 12% of Egypt's GDP, 10% of employment)
As part of the EGP 100 billion stimulus, EGP 50 billion has been announced for the tourism sector;
Real estate tax relief has been provided.
To support agriculture sector, the tax law on agricultural land has been suspended and extended for 2 years.
For the Egyptian Stock Exchange (EGX):
Capital gains on securities for Egyptian residents has been postponed until January 2022. For non-residents the exemption from the taxation on capital gains will be permanent;
Withholding tax on dividends paid by listed companies in EGX will be reduced from 10% to 5%;
Stamp duty: on transactions in the EGX will be reduced from 0.15% to 0.05% for Egyptian residents and from 0.15% to 0.125% for non-residents. All spot transactions on EGX will be exempt from stamp duty.
Logistics:
Under mandatory lockdown till June, all passenger flights have been suspended. Cargo flights are still operated by Egypt Air Cargo, DHL, Turkish Airlines and ET.
Like most countries, Egypt has implemented 14 days quarantine rule applicable to vessels coming from exposed countries, which can impact lead-times.
Road transportation operations impacted by curfew.
Trucker subcontractors are now working with 60% capacity.
Parliament actions:
Egypt is held its parliamentary elections between October and December on two phases to cover 27 governorates;
Earlier, the previous parliament voted in favor of extending state of emergency. Emergency law approved amendments to give the president 17 new powers to contain coronavirus' economic impact mainly focusing on addressing extraordinary health, social and economic conditions;
The new powers include: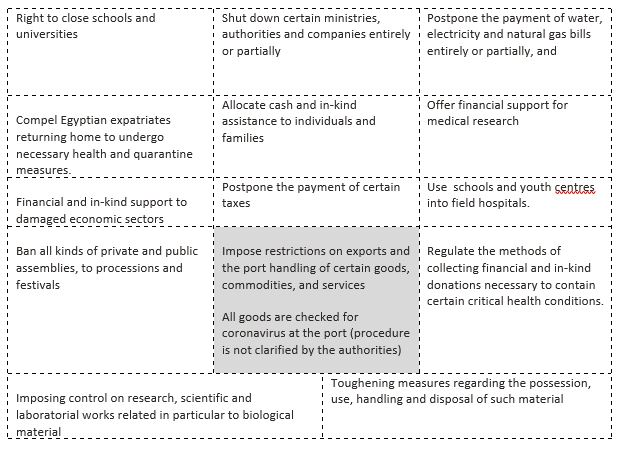 Starting April 24th, President Abdel Fattah El-Sisi's government has loosened a strict curfew for the Muslim holy month of Ramadan to kickstart North Africa's largest economy. Starting June, gathering were allowed and starting September, larger activities took place: concerts, wedding ceremonies, festivals, local exhibitions were allowed. Egypt was luck during its long summer, because all major activities took place in outdoors venues which lead to a remarkable decrease in the covid19 cases with a drop from 1600 cases per day in June to gradually reaching less than 200 cases per day until October. In October 5, Egypt received nearly 300,000 tourists from different nationalities since announcing Tourism resumption in May. Since November the second wave of the virus started to gradually show an increase in the daily cases to reach less than 500 a day in early December. All activities as carried as normal with respect to distancing and mandatory masks measures.
While the macroeconomic stabilization continues with sectoral reforms, let's observe how the crisis will be handled globally and particularly in Egypt in the coming days.
Please contact us at cairo@fitagency.com, if you need further information concerning your industry.