La Tanzanie est le plus vaste des pays de la Communauté d'Afrique de l'Est et le second en termes de PIB (50 milliards USD en 2017). Son territoire de 950 000 km² est riche en minerais et plus de 50% des exportations totales du pays sont à mettre au compte du secteur minier. La croissance économique de la Tanzanie, qui compte environ 55 millions d'habitants, devrait atteindre 6% par an de 2018 à 2026. Les moteurs de la croissance sont le développement des infrastructures, un nombre croissant de consommateurs et les ressources naturelles du pays.
L'agriculture tanzanienne, premier employeur du pays (plus de 65% de la main d'œuvre), contribue au PIB à hauteur de 30%. Les principales cultures sont les suivantes : maïs, manioc, patates douces, haricots, bananes, millet, tabac, café, thé, noix de cajou, sisal et coton. La Tanzanie, qui possède également 64 000 km² de surfaces lacustres, une zone économique exclusive de 223 000 km² et 58 000 km² de zones humides, produit environ 800 000 tonnes métriques de poisson.
Le Président Magufuli est entré en fonction en novembre 2015. Son gouvernement a pris des mesures de lutte contre la corruption et le gaspillage de l'argent public par les institutions publiques tanzaniennes. Ces dispositions ont permis au gouvernement d'obtenir des subventions et des prêts assortis de conditions favorables de la part des institutions internationales de développement multilatéral. Les changements mis en œuvre par le nouveau gouvernement ont poussé les entreprises à modifier leur manière de travailler, suscitant de l'incertitude chez les unes et de la satisfaction chez d'autres.
Désireuse de moderniser ses infrastructures industrielles, la Tanzanie a interdit l'exportation de minerais. Le sous-sol du pays recèle de nombreux minéraux et matières premières qui désormais ne peuvent plus être exportées librement : or, fer, nickel, cuivre, cobalt, uranium, kaolin, titane, platine, argent, graphite, gaz naturel, diamant et autres pierres précieuses. Certains de ces minéraux doivent maintenant être traités sur place pour stimuler l'industrialisation, sinon une fiscalité spéciale leur est appliquée. Ces dispositions créent des opportunités intéressantes d'exportations de technologies, machines et services.
Le gouvernement s'occupe aussi activement du développement de la capitale du pays, Dodoma ; à cette fin, il a réservé une zone de 12 000 hectares, tous les ministères et institutions internationales devant déménager pour s'installer à Dodoma. Actuellement, Dodoma connaît une pénurie de logements et de bureaux et manque des infrastructures clés nécessaires pour faire face à l'augmentation rapide du nombre d'habitants et de véhicules.
Au début de 2018, les Nations Unies (avec sept de ses agences) ont été la première organisation internationale présente en Tanzanie à déplacer officiellement son siège vers la nouvelle capitale, tandis que le gouvernement, abandonnant la capitale économique Dar es Salam, finalise son propre déménagement.
En principe, tous les segments offrent des opportunités: eau, santé, éducation, industrialisation, services, automobile, chimie, pharmacie, machines-outils, loisirs, banque, construction, immobilier, aéronautique, etc.
Tanzania (Ivan Korsak)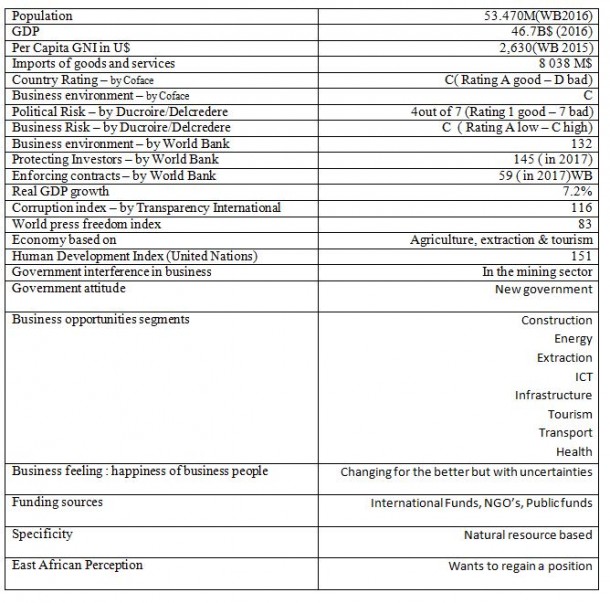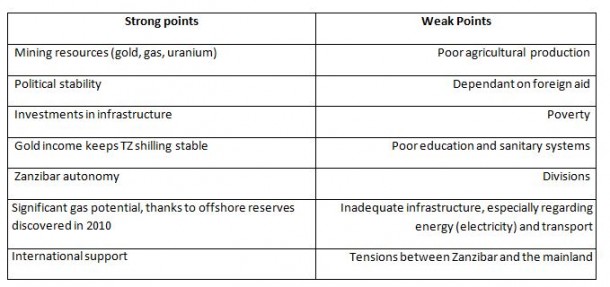 General overview
Tanzania is the biggest in land area among the East African countries (i.e. Kenya, Uganda and Tanzania). Dar es Salaam is the commercial capital and major sea port for Tanzania Mainland and it serves neighbouring land-locked countries of Malawi, Zambia, Burundi, Rwanda, and Uganda, as well as Eastern DRC. Other sea ports include Zanzibar, Tanga, and Mtwara. Because of its geographical and location advantage, Dar es Salaam Port presents itself as one of the gateway into East and Central Africa.
The Tanzania economy relies most heavily on the agriculture sector for contributions to the GDP; currently, the agriculture sector accounts for nearly half of the GDP of the Tanzania economy and employs nearly 80% of the workforce in the country.
Growing in impact and importance, however, is the Tanzania tourism sector, which currently ranks as the second highest foreign exchange earner in the country behind agriculture.
The mineral production of natural resources such as gold, diamonds and tanzanite has also grown significantly in the last decade and currently represents the largest source of economic growth in Tanzania, providing over 3% of the GDP and accounting for half of the exports from Tanzania.
Economic and commercial evolution
Overall for 2016, the Tanzanian economy has shown resilience amid flagging growth in Sub-Saharan Africa. Real GDP growth for the year is estimated at nearly 7% despite a softening of growth in the second half of the year. Agricultural production increased over the previous year. Non-manufacturing industrial growth softened as a whole as the substantial deceleration of construction and slump in the generation of electricity more than offset strong growth in the mining and quarrying sub-sector. Services maintained solid performance overall.
The inflation rate has remained low and near the authorities' medium-term target of 5%, although it has trended upward in recent months following a tightening of the food supply and rising energy costs.
Gross International reserves stood at $4.3 billion at the end of January 2017, a level sufficient to finance the equivalent of approximately four months of projected imports of goods and services. The value of shilling remained stable in 2016, following considerable volatility in 2015.
Major economic sectors: agriculture, financial and business services, trade and tourism, manufacturing.
Agriculture products: coffee, sisal, tea, cotton, pyrethrum, cashew nuts, tobacco, cloves, corn, wheat, cassava (tapioca), bananas, fruits, vegetables: cattle, sheep, and goats.
Industries: agricultural processing (sugar, beer, cigarettes, sisal twine); diamond, gold, and iron mining, salt, soda ash; cement, oil refining, shoes, apparel, wood products, fertilizer.
Export commodities: gold, coffee, cashew nuts, manufactures cotton.
Export partners: India 21.8%,  China 8.2% Japan 5.1%, Kenya 4.6% Belgium 4.3% (2016)
Import commodities: consumer goods, machinery and transportation equipment, industrial raw materials, crude oil.
Import partners: China 35.2%,  India 13.7% ,  South Africa 4.5%, Kenya 4.4%,  (2016)
GDP - composition by sector: agriculture: 25.1%      industry: 27.6% services: 47.3%% (2016 CIA est.)
Inflation: 5.2% (2016 CIA est.)
Doing Business – Pros & cons: Tanzania's economy has been growing steadily for the past 10 years.
Segments of the economy
Mining
Tanzania's ranks 5th--after South Africa, Ghana, Sudan and Mali --in the table of African gold producing countries, its mining sector has its roots in the country's colonial history with a focus on exportation of mineral sand concentrates for smelting abroad. President John Magufuli has decided to cease this legacy and ban the exportation of mineral sand concentrates for smelting abroad. As a consequence the sector is knowing some turmoil for the moment.
Coal reserves in Tanzania are estimated at 1.9bn t, 25% of which are proven. Coalfields with the highest potential are Ketawaka-Mchuchuma in the Ruhuhu Basin, Ngaka Fields in the South West of Tanzania and  Songwe Kiwira fields.
Agriculture
Agriculture is the foundation of the Tanzanian economy.  It accounts for about half of the national income. Tanzania is well endowed with a variety of farming systems with climatic variations and agro-ecological conditions of which crops can be grown
Energy
Tanzania has good prospects of becoming a major producer of natural gas by the end of a decade, according to the International Monetary Fund (IMF). Tanzania's natural gas reserves are now estimated at more than 53 trillion cubic feet following major gas discoveries in the country's deep-water offshore region.
Electricity is mainly generated from hydropower - which is prone to drought effects- so some thermal power stations have been installed. Only three quarters of the country (mainly urban areas) is connected to the national grid. Tanzania has per capita electricity consumption of 46/KWh per annum, which is growing at the rate of 11 - 13 per cent. Hence the government is encouraging investment to expand generating capacity, distribution system and developing indigenous sources of energy.
There are other indigenous alternative sources of energy which include coal. Tanzania has 1,200 million metric tons, which could provide energy for paper mills, cement factories, agriculture and household consumption, and generation of power.
Wind and solar energy is another source of energy. Very little attempt has been made to utilize this source of energy which could be a viable alternative source to reduce use of wood and oil for heating purposes.
Tourism
Tanzania's tourism sector is among the sectors with great economic growth potential.  It provides a substantial amount of foreign exchange earnings, employment for 30,000 people and stimulates other sectors like agriculture thereby contributing to the economic growth. The sector continues to face general deterioration of supportive infrastructure particularly those related to accessibility and reliability, thus there is need for improvement in tourist related facilities and services which would boost this sector's performance tremendously.  Marketing of tourist products is another essential element to promote Tanzania's desirable tourist destination.
Total exports of tourism reached USD 1,468.1 million in the year ending February 2017 compared to USD1,168.6 million in the year ending February 2016,representing an increase of +25.6% in revenues, due to recovery in price in the world market and increase in volume (Bank of Tanzania)
Education & Financial services
Education is a continuously developing sector and contributes significantly to the Tanzanian economy. There is a need to develop the sector to meet international standards.
Mineral resources have contributed to the fact-t that the financial sector is one of the fastest growing sectors in Tanzania. There are a number of local and international banks being established within the economy.
National website of Tanzania: www.tanzania.go.tz, www.tanzaniainvest.com