Conjoncture économique et secteurs porteurs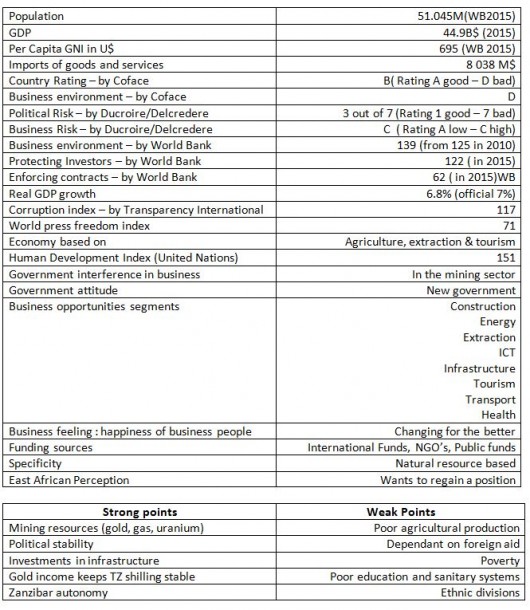 General overview
Tanzania is the biggest in land area among the East African countries (i.e. Kenya, Uganda and Tanzania). Dar es Salaam is the commercial capital and major sea port for Tanzania Mainland and it serves neighbouring land-locked countries of Malawi, Zambia, Burundi, Rwanda, and Uganda, as well as Eastern DRC. Other sea ports include Zanzibar, Tanga, and Mtwara. Because of its geographical and location advantage, Dar es Salaam Port presents itself as one of the gateway into East and Central Africa.
The Tanzania economy relies most heavily on the agriculture sector for contributions to the GDP; currently, the agriculture sector accounts for nearly half of the GDP of the Tanzania economy and employs nearly 80% of the workforce in the country.
Growing in impact and importance, however, is the Tanzania tourism sector, which currently ranks as the second highest foreign exchange earner in the country behind agriculture.
The mineral production of natural resources such as gold, diamonds and tanzanite has also grown significantly in the last decade and currently represents the largest source of economic growth in Tanzania, providing over 3% of the GDP and accounting for half of the exports from Tanzania.
Economic and commercial evolution
Today, the industrial sector in Tanzania is one of the smallest in Africa and accounts for less than 10% of the Tanzania GDP, however the sector continues to be of considerable importance to the Tanzania economy as it is still one of the most reliable sources of government revenue in terms of import sales as well as for both corporate and income taxes, accounting for over half of the annual government revenue collection.
The economy is expected to grow 6 percent this year, up from an earlier projection of 4.7 percent, as lower oil prices spur consumption and the government proceeds with rail and energy projects.
Major economic sectors: agriculture, financial and business services, trade and tourism, manufacturing.
Agriculture products: coffee, sisal, tea, cotton, pyrethrum, cashew nuts, tobacco, cloves, corn, wheat, cassava (tapioca), bananas, fruits, vegetables: cattle, sheep, and goats;
Industries: agricultural processing (sugar, beer, cigarettes, sisal twine); diamond, gold, and iron mining, salt, soda ash; cement, oil refining, shoes, apparel, wood products, fertilizer;
Export commodities: gold, coffee, cashew nuts, manufactures cotton;
Export partners: India 21.4%, China 8.1% Japan 5.1%, Kenya 4.6% Belgium 4.3% (2015);
Import commodities: consumer goods, machinery and transportation equipment, industrial raw materials, crude oil;
Import partners: China 34%, India 13.5%, South Africa 4.7%, Kenya 4.1% (2015);
GDP-composition by sector: agriculture: 26.5% industry: 25.6% services: 47.9%%      (2014 CIA est);
Inflation: 5.60% (2015 CIA est).
Doing Business – Pros & cons: Tanzania's economy has been growing steadily for the past 10 years.

Segments of the economy
Mining
Mining sector contributes about 2.3 per cent of the GDP, which is projected to account 10 per cent in 2025. Tanzania has a great potential particularly for gold, base metals, diamonds, ferrous minerals and a wide variety of gemstones, some of, which are unique such as Tanzanians. Coal, uranium, and various industrial minerals such as soda, kaolin, tin, gypsum, phosphate and dimension stones are available at an attractive economic rate. Gold and diamonds has always been the mainstay of the country's mineral production
Agriculture
Agriculture is the foundation of the Tanzanian economy.  It accounts for about half of the national income. Tanzania is well endowed with a variety of farming systems with climatic variations and agro-ecological conditions of which crops can be grown
Energy
Tanzania has good prospects of becoming a major producer of natural gas by the end of a decade, according to the International Monetary Fund (IMF). Tanzania's natural gas reserves are now estimated at more than 45 trillion cubic feet following major gas discoveries in the country's deep-water offshore region.
Electricity is mainly generated from hydropower - which is prone to drought effects- so some thermal power stations have been installed. Only three quarters of the country (mainly urban areas) is connected to the national grid. Tanzania has per capita electricity consumption of 46/KWh per annum, which is growing at the rate of 11 - 13 per cent. Hence the government is encouraging investment to expand generating capacity, distribution system and developing indigenous sources of energy.
There are other indigenous alternative sources of energy which include coal. Tanzania has 1,200 million metric tons, which could provide energy for paper mills, cement factories, agriculture and household consumption, and generation of power.
Wind and solar energy is another source of energy. Very little attempt has been made to utilize this source of energy which could be a viable alternative source to reduce use of wood and oil for heating purposes.
Tourism 
Tanzania's tourism sector is among the sectors with great economic growth potential.  It provides a substantial amount of foreign exchange earnings, employment for 30,000 people and stimulates other sectors like agriculture thereby contributing to the economic growth. The sector continues to face general deterioration of supportive infrastructure particularly those related to accessibility and reliability, thus there is need for improvement in tourist related facilities and services which would boost this sector's performance tremendously.  Marketing of tourist products is another essential element to promote Tanzania's desirable tourist destination.
Education & Financial services
Education is a continuously developing sector and contributes significantly to the Tanzanian economy. There is a need to develop the sector to meet international standards.
Mineral resources have contributed to the fact-t that the financial sector is one of the fastest growing sectors in Tanzania. There are a number of local and international banks being established within the economy.
National website of Tanzania: www.tanzania.go.tz
Economies of the Eastern African Communities
In 2010, the EAC (composed of five countries, Kenya, Tanzania, Uganda, Rwanda & Burundi) launched its own common market for goods, labour and capital within the region, with the goal of a common currency and full political federation in 2015.
The idea of this document is to compare different sources of data and enable the Belgian business man to have a quick overview of the East African Community's economies.
The 5 countries are classified by order: Kenya being the largest economy and Burundi the smallest.
Indicators:
The data is an overall approach on countries. In some economies like Kenya one will find that doing business in Nairobi is different from Mombasa or Kisumu.
The GNI consists of: the personal consumption expenditures, the gross private investment, the government consumption expenditures, the net income from assets abroad (net income receipts), and the gross exports of goods and services, after deducting two components: the gross imports of goods and services, and the indirect business taxes. The GNI is similar to the gross national product (GNP), except that in measuring the GNP one does not deduct the indirect business taxes.
Ducroire/Delcredere is Belgium's overseas export credit insurer. It insures and reinsures the political and commercial risks of trade transactions. Political risk index goes from 1 (good) to 7 (bad) and commercial risk from A (low risk) to C (high risk) www.ducroire.be
Coface is the French export Credit insurer. Its rating reflects the average risk of short-term non-payment for companies in this country. Seven families are used A1 to A4, B, C & D. A1 (Belgium) Steady economic environment, good payment record of companies, very weak default probability to D (Afghanistan): High risk profile of the economic and political environment, very bad payment record. http://www.cofacerating.fr
World Bank analysed 189 Economies: 1 Best (Singapore in 2015) – 189 worst (Eritrea in 2015).
Transparency international monitors corruption: 1 Best (Denmark, New Zealand Finland, Sweden) – 178 Worst (Somalia).
The World press freedom index monitors freedom of expression: 1 Best (Finland) – 13 (Belgium) – 180 worst (Eritrea).
The "Business feeling" is a subjective point of view: it's how the foreign local business people perceive the day to day business processes and its general perspectives. It can be good, medium or low. For instance Rwanda has a good rating by World Bank but poor ratings by the credit export agencies and world press freedom index, with intrusive public institutions into the business environment resulting in "low business feeling" by the local community.
This information was compiled from different sources: World Bank, Coface, Ducroire, EIU, official web sites of the countries, Transparency international, World press freedom, African Economic Outlook, personal inputs and data found on websites.
Ivan Korsak
Attaché économique et commercial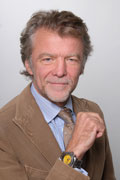 Ivan KORSAK
Attaché économique et commercial
AMBASSADE DE BELGIQUE
Limuru Road, Muthaïga, Nairobi
P.O. Box 30 461 Nairobi
nairobi@belemb.eu
nairobi@brusselsinvestexport.com
T +254 20 405 20 90
F +254 20 712 26 13
www.brussels-in-east-africa.com